GPS Tracker Pet Collar Pendant
Sale price Price $8.99 Regular price $29.99 Unit price / per
Outdoor Mini Pet Dog Cat Bluetooth GPS Anti-lost Locator Monitor Tracking Device
We don't even want to think about it.
Losing a pet? Not knowing where they are?
Un-freaking-bearable.
It's the kind of gut-wrenching pain that can send you into a deep, dark hole that feels impossible to climb your way out of.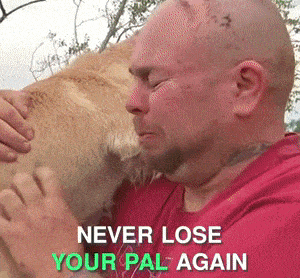 This GPS pet tracker always knows where your pet is, even when you don't.

Wait. What? You mean there's a way to actually track your pet?

Yep. And it's so simple, it's kind of crazy no one's thought of it till now.
☛ Function:

❶ Support Bluetooth connection with mobile phone and two-way searching function, which can connect with 8 pet GPS at most at the same time.

❷ Under connecting state, when pet anti-lost device go out of the monitoring area, the phone and the device will alarm at the same time.

❸ You can check the map location on your mobile phone when the anti-lost device is disconnected.

❹ Providing avoiding interruption function, which can be st to mute in a certain period of time to prevent interruption at work and other important hours.

❺ Control the shooting function of mobile phone through the anti-lost device and remote control self-timer.
☛ Features:
★ 45 ft alarm. Your pet gets 45 feet to run loose before an alarm goes off telling you there's trouble. Chase them down before they get any farther.


★ Easy app. It's easy to set up and starts working as soon as you turn the tracker on. You'll always know exactly where your pet is. 

★ Real-time. Always see your pet's location in real-time, because that's the only time that matters when your pet is lost. Looking for the history? You can see that too. 
★ Waterproof. A little rain, or even a lot of it, won't stop this tracker from working. Because weather shouldn't be a factor in protecting your pet. 

★ Compact. Don't worry about the size or weight dragging your pet down, it won't. It's made to be lightweight and portable. 
☛ Specification:
Material: ABS
Color: Pink, Blue, White, Black, Green
Battery: CR2032 Lithium coin battery (replaceable)
Bluetooth Version: Bluetooth 4.0
Compatible Device: iPhone (iOS 7.0 or later), iPad Mini, iTouch 5, iPad 3/4 and Android (Android 4.3 or later)
Size (LxW): Approx. 5cm x 3cm / 1.97inch x 1.18inch
Finder Distance: 0-100 feet



☛ Packing List:
1 x User Manual
1 x Pet GPS Locator (Selected Color)



☛ Note: 

▲ The effective distance of this anti-lost device can be up to 10 meters in the open range.
▲The GPS is not very accurate, it can only locate to the street or block. Please do not buy it if you can not accept it.
█ 

OUR GUARANTEE

 █
We truly believe that we have provided the best and most advanced products for you. We want you to be sure that you are free from risks. You are protected as a buyer from PayPal with a 60-day warranty from us. If you do not have good experience for any reason, we will do whatever it takes to ensure that you are 100% satisfied with your purchase.Buying products online can be a concern, so we want you to realize that buying something is not risky. If you don't like it, there is no feeling that we will make it right. We have 24/7/365 ticket support and email. Please contact us if you need help.